Abdominoplasty: abdominal surgery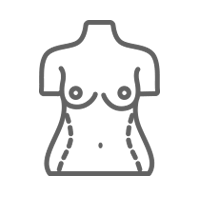 Useful information
Who is it for?

Abdominoplasty is intended for patients who have excess skin that has become embarrassing and who have a moderate amount of fat in the abdomen

Type of hospitalization

2 to 3 days

Duration of the procedure

2 hours

Type of anesthesia

General

Duration of results

Permanent

Duration of social eviction

10 days

Price

From CHF 8900
What is abdominoplasty?
Abdominoplasty, also known as tummy tuck, is a surgery that consists of removing excess skin and/or fatfrom the abdomen. This procedure also strengthens abdominal wall muscles. Following abdominoplasty, you will regain a flat stomach and a more harmonious silhouette.
When excess skin and fat are also found on the back, a body lift may be indicated. This type of lift treats the front and back parts of the body and can, if desired, raise and strengthen the buttocks.
Indications
Abdominoplasty can be used when your weight is stable and excess skin and fat in the lower abdomen have become bothersome. Fat in the lower abdomen is often very difficult to lose, even with exercise, especially when the abdominal muscles are weakened.
It is possible to perform a pubic and genital lift at the same time as a tummy tuck using the same incision.
It is important that you have clear and realistic expectations regarding the desired result. A healthy lifestyle, a healthy diet and quitting smoking at least one month before the procedure will contribute to a smooth procedure and a good recovery.
Abdominoplasty: particularities
The procedure is performed undergeneral anesthesia.
The tummy tuck requires an incision on an area located between the navel and the pubis, the scar will be under the bikini. The size of the incision depends on the location and amount of fat and excess skin. Although easy to hide, it is often long and extends across the space between the two hips.
In some cases, a small probe may be placed under the skin to facilitate the drainage of certain liquids that may accumulate. In all cases, you will discuss this with the doctor before and after the procedure.
When a body lift is indicated, it will generally be performed during a second surgery.
Post-operative period
In some cases, this surgery can be performed on an outpatient basis, in others a shorthospital stay is necessary.
As far as stitches are concerned, sutures are self-absorbing. They need not be removed after the operation. Dressings will be placed along the incision and will remain in place for a period of 2 to 3 weeks.
During the recovery period, the doctor will provide you with an elastic girdle that you will have to wear around your belly to help the tissues shrink and heal properly.
During the first two weeks, patients are advised not to stand up completely in an upright position to avoid excessive tension on the scar.
You can return to work 1 to 2 weeks after the procedure, and to sports 4 to 6 weeks later.
Results
Although the results will not be visible immediately because of the swelling and the fact that you are not in an upright position, two weeks later you will be able to appreciate them. The shape of your belly will have changed, you will have a flat and firmer belly, in phase with your body and your weight.
Depending on the case, a second operation may be necessary to obtain optimal results.
It is important to know that the scar created by abdominoplasty can often be integrated with an existing cesarean scar. Other scars in the abdomen may limit the results of this procedure.
Imperfections
Some imperfections may occur after the tummy tuck. The scar may become too apparent and present irregularities (thick, wide, etc.). Excess skin or fat may remain. These imperfections can usually be corrected during a second operation, sometimes with a simple local anesthetic.
Risks
Although not very frequent if the patient follows the doctor's instructions, there are certain risks associated with this procedure: phlebitis, hematoma, infections, among others. You will discuss the risks associated with this procedure with the doctor, who will be able to enlighten you on this subject according to your particular case. No generalizations can be made because many factors such as your lifestyle, your history, etc. influence the risks associated with abdominoplasty, as with any other surgical procedure. It is only after talking with the doctor that you will have all the elements to make your decision.
Contraindications
There are some contraindications to abdominoplasty such as a history of phlebitis or pulmonary embolism, an expected short-term pregnancy, smoking. You will discuss this further with the doctor before making a decision.
Abdominoplasty or Liposuction
In the case where your skin is of good quality and you only need to remove a little fat from your belly, the best option may be to have a liposuction. When you have excess loose skin and stretch marks, abdominoplasty will be preferred. The latter can also correct the swelling of the lower abdomen due to a weak abdominal wall.
Makeover for mothers
These are surgical procedures that aim to correct the changes that the body has undergone during pregnancy and breastfeeding. For example, liposuction and/or abdominoplasty can be combined with a breast lift/breast augmentation.
---
Did you like this page?
As part of improving the information we provide you, please note this page.
Click to rate!
The media is talking about us!
















Locate us
Address
Avenue Jomini 8
1004 Lausanne
Switzerland
Schedule
Monday9h-12h 14h-18h
Tuesday9h-12h 14h-18h
Wednesday9h-12h 14h-18h
Thursday9h-12h 14h-18h
Friday9h-12h 14h-18h

Parking
Disabled access
Station 10 min
Airport 50 min