Hyaluronic acid injection
Hyaluronic acid injection to rejuvenate your skin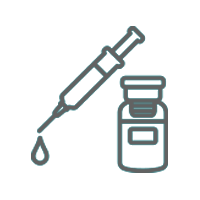 Useful information
Who is it for?

Signs of aging

Type of hospitalization

None

Duration of the procedure

15 min to 1 hour

Type of anesthesia

Local, with or without ointment

Duration of results

6 to 12 months

Duration of social eviction

None

Price

From CHF 590
What is hyaluronic acid?
Hyaluronic acid, also known as hyaluronate, is a molecule naturally produced by our body and present in some biological fluids and tissues.
In the eyes, it helps prevent dry eyes, while in the joints, it acts as a shock absorber to better withstand pressure. In the skin, it doubles inter-cellular spaces and participates in tissue hydration and cohesion. It acts like a sponge and is capable of absorbing 1000 times its weight in water!
Scientific revelations concerning the virtues of hyaluronic acid are innumerable: It contributes to skin elasticity, suppleness, tone and hydration. However, its quantity and quality decrease with age (at a rate of 6% every 10 years). Its production is constant but degrades as quickly as it is produced. The skin's texture deepens, which is how wrinkles and fine lines appear.
Why inject Hyaluronic Acid?
At Global Plastic Surgery, we inject hyaluronic acid to replenish the skin with this vital substance and to increase volume when needed. A facial volume correction can restore volume to an area that would have lost projection through the natural processes of aging such as: loss of bone, fat and muscle mass, or the correction of physiologically insufficient volumes.
Hyaluronic acid injection can also be used to smooth the skin surface. Indeed, over time, the skin is marked by wrinkles that can be located on the forehead, between the eyes, at the outer corner of the eyes, on the cheeks and around the mouth. These wrinkles are mainly related to the muscular mechanisms involved in all our facial expressions such as joy, sadness, pain...
Our goal is to make your skin more hydrated, supple and luminous. The volume is injected to boost the complexion, regenerate the epidermis and dermis, you look younger while keeping natural looks. Its use is effective immediately. It is a very popular alternative to minor cosmetic procedures. The hyaluronic acid we inject is synthesized in the laboratory (it is not of animal origin) and behaves like the natural substance.
The injection of Hyaluronic Acid is particularly recommended for:
Scars (acne scars, facial scars, burns, wounds)
Depression of the cheeks
Wrinkles at the corner of the eyes (crow's feet)
Deep smile lines between the nose and the corner of the mouth (also called nasolabial folds)
Smoker's lines (vertical lines on the upper lip called "bar code" lines)
Worry lines on the forehead
Deep wrinkles between the corner of the mouth and the chin (marionette lines)
Wrinkles between the eyebrows (frown lines)
At Global Plastic Surgery, we will only consider you as an eligible applicant for this procedure if you have a positive outlook and realistic goals, so that the selected procedure can be successfully achieved. If you are a non-smoker or quit smoking at least 1 month prior to the procedure, the results will be more predictable. However, if you cannot quit smoking, complications are to be expected and the procedure may be suspended.
Surgical applicants also commit to a healthy lifestyle, good nutrition and physical activity.
How is Hyaluronic Acid injected?
Hyaluronic acid is injected at our clinic located in Lausanne (Switzerland) according to your request, corresponding to the clinical analysis of your face with the best products available. The injection procedure is performed in the office, it is fast and almost painless.
Depending on your needs, you may need more than one procedure to achieve the desired result. No special preparation is required.
At Global Plastic Surgery, cannulas will be used to reduce the risk of hematoma and increase your comfort during the procedure.
How much downtime is required?
After hyaluronic acid injections, there is basically no downtime.
In general, local reactions may appear, such as skin redness, itching, sensitivity, small bruises... These are completely normal and classic. They can be camouflaged with make-up if necessary.
What results can I expect?
Hyaluronic acid injections have immediate results in terms of improving the quality of your skin and its appearance. Your skin is visibly younger and your complexion more radiant.
Depending on your skin quality, the procedure performed and the areas treated, you may experience a slight bruise (blood effusion) and swelling.
All of this disappears quickly. The results can be long-lasting (several months, but temporary).
Since hyaluronic acid is a resorbable molecule, injections must be performed several times to maintain results.
What are the possible risks?
Hyaluronic acid injections do not require any special preparation in healthy patients. However, patients are always asked to stop smoking, aspirin, and non-steroidal anti-inflammatory drugs before the procedure.
At Global Plastic Surgery, all possible risks and complications will be discussed at length with you before the procedure. After thorough discussionswith your surgeon, you will decide if the potential risks and complications as well as the benefits are acceptable to you.
If you are taking blood thinning medications or have a special medical condition that increases the risks of this procedure, the medical staff will take special measures.
Blindness and necrosis have been reported as a consequence of hyaluronic acid injections. At Global Plastic Surgery, we have taken every measure to prevent these rare but tragic complications. We are happy to discuss all these delicate aspects of aesthetic medicine with our patients in detail and, above all, to give you the keys to avoiding them.
What is the price of this type of procedure?
The price of the procedure depends mainly on the area to be treated and the material used. The price of the procedure is 600 chf and more.
Procedures in
Hyaluronic acid injection
---
Did you like this page?
As part of improving the information we provide you, please note this page.
Click to rate!
The media is talking about us!
















Locate us
Address
Avenue Jomini 8
1004 Lausanne
Switzerland
Schedule
Monday9h-12h 14h-18h
Tuesday9h-12h 14h-18h
Wednesday9h-12h 14h-18h
Thursday9h-12h 14h-18h
Friday9h-12h 14h-18h

Parking
Disabled access
Station 10 min
Airport 50 min