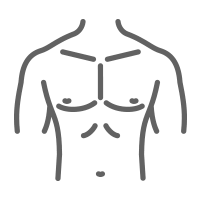 Useful information
Who is it for?

All men with breast hypertrophy.

Type of hospitalization

Outpatient

Duration of the procedure

About 1h30

Type of anesthesia

General

Duration of results

Permanent

Duration of social eviction

2 to 3 days

Price

From CHF 6000
What is gynecomastia?
Gynecomastia is an excessive growth of the mammary glands in men. There is no specific age or reason that causes this development. It can be related to hormonal changes, hereditary issues, taking certain medications or drugs. Gynecomastia is benign but is often emotionally difficult. People with gynecomastia may lose self-confidence and limit physical and intimate activities in order to hide the problem. This procedure reduces breast volume while harmonizing the contour of the breast.
Indications
If you have excess skin on your chest, either on one or both sides, the doctor will examine you to verify the diagnosis.
In order to rule out a pathological origin that can be cured otherwise (such as an excess of female hormone production), the doctor will do some tests that will let him or her decide if you really need this procedure.
It is important that you have clear and realistic expectationsregarding the desired result. A healthy lifestyle, a healthy diet and quitting smoking at least one month before the procedure will contribute to a smooth procedure and a good recovery.
Gynecomastia: the procedure
The procedure is performed under general anesthesia.
It consists of one or several steps depending on your needs and the desired result. Sometimes only liposuction is needed to remove the excess fat, an incision is made around the areola to remove the mammary gland and part of the skin in case of excess skin. If excess fat or skin still needs to be removed, additional small incisions can be made around or under the areola.
Post-operative period
The procedure can be done on an outpatient basis or require a short hospital stay.
The sutures we use are resorbable and therefore do not need to be removed. A bandage will need to remain in place for 2 to 3 weeks.
We will provide you with elastic bands that you will wear to hold the skin and tissues together during the healing period.
You will be able to resume activities 1 to 2 weeks after the procedure and sports 4 to 6 weeks later.
Results
The result is immediate, you will see an improvement in the contour of your chest and you will feel better. However, to see the final result you will have to wait about 3 months for the swelling to be completely reabsorbed.
During the first few months, scars will be visible but they will fade with time.
A second operation may be necessary to obtain optimal results.
The result is long lasting as long as your weight is stable and your lifestyle balanced. Your doctor will advise you on good postoperative practices.
Risks
During your appointment, the doctor will explain all the possible risks and complications associated with this procedure, even though they are rare. It is only after discussing the risks with the doctor that you will have all the information you need to make your decision.
---
Did you like this page?
As part of improving the information we provide you, please note this page.
Click to rate!
The media is talking about us!
















Locate us
Address
Avenue Jomini 8
1004 Lausanne
Switzerland
Schedule
Monday9h-12h 14h-18h
Tuesday9h-12h 14h-18h
Wednesday9h-12h 14h-18h
Thursday9h-12h 14h-18h
Friday9h-12h 14h-18h

Parking
Disabled access
Station 10 min
Airport 50 min