Vaginal dryness treatment
Treatment of vaginal dryness in Lausanne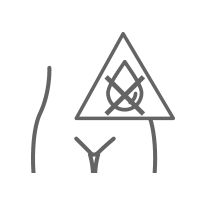 Useful information
Who is it for?

For all women who suffer from vaginal dryness

Price

From CHF 1500 (3 sessions)

Duration of the procedure

3 to 5 sessions, 10 to 15 minutes each, over 2 months

Type of anesthesia

No anesthesia is necessary

Duration of results

6 months to 1 year

Duration of social eviction

4 to 6 weeks
What is the Sonocare Vaginal Dryness Treatment?
It is an ultrasound stimulation of the vaginal area to restore vaginal hydration, to tone thevagina (to stop a minor incontinence) and/or to revive sensations during sexual relations.
This treatment is safe, effective and painless.
Who is the treatment for?
All women who suffer from vaginal dryness, especially after menopause, slight urinaryincontinence or vaginal laxity or who wish to experience more pleasure during intercourse.
Undesirable effects
No adverse effects. No risks or side effects.
Results of the treatment of vaginal dryness
You will regain hydration a few weeks after treatment and tone to prevent incontinence after 3 to 5 sessions. Results last between 6 months and 1 year.
---
Did you like this page?
As part of improving the information we provide you, please note this page.
Click to rate!
The media is talking about us!
















Locate us
Address
Avenue Jomini 8
1004 Lausanne
Switzerland
Schedule
Monday9h-12h 14h-18h
Tuesday9h-12h 14h-18h
Wednesday9h-12h 14h-18h
Thursday9h-12h 14h-18h
Friday9h-12h 14h-18h

Parking
Disabled access
Station 10 min
Airport 50 min