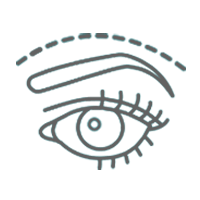 Useful information
Who is it for?

The eyebrow lift is intended for people whose skin is stretched at the eyebrow level and who wish to regain a lively and youthful look.

Type of hospitalization

Outpatient

Duration of the procedure

Approximately 1 hour

Type of anesthesia

Local anesthesia.

Duration of results

Permanent

Duration of social eviction

7 to 10 days

Price

From CHF 4500
What is an eyebrow lift?
Also known as a temporal lift, the eyebrow lift is a surgical procedure that aims to correct sagging eyebrows. The tail of the eyebrow may begin to cover the eyelid. During the procedure, the eyebrow is returned to its original position, giving you a more youthful, alert look. This sagging phenomenon appears over time. It is related to loss of skin elasticity which, once relaxed, has a tendency to fall. In some cases, it can be hereditary.
Indications
If your eyebrows fall, your eyelids are cluttered and your eyes can give you a tired and sad look. An eyebrow lift is likely to be the right solution.
During your appointment, your doctor will determine the right solution for you.
A healthy lifestyle, a healthy diet and quitting smoking at least one month before the procedure will help the procedure go smoothly and ensure a good recovery.
Eyebrow lift: particularities
This procedure is usually performed under local anesthesia and sometimes under general anesthesia. The surgical incisions are made either at the temples (temporal approach) or directly on the eyelids (direct lift). Whatever approach is chosen, the scar remains discreet. There is no dressing to remove afterwards.
Post-operative period
The procedure is ambulatory. Some swelling or bruising may appear following the procedure, but this will disappear a few days later. You may feel a little skin tension, but as a rule you will not feel any pain.
The doctor will give you all the instructions to follow for the hygiene of the scar and for a good healing.
Results
You will start to see results as soon as the procedure is over, and they will improve as the inflammation disappears. The inflammation should be completely gone after one month. You will then have that younger, more rested look and feel. The incisions heal quite quickly and are discreet. The results are long-lasting.
Risks
Complications of the eyebrow lift are very rare. It is important to follow the doctor's instructions, especially concerning the precautions to be taken around the scar.
During your appointment, the doctor will explain all the possiblerisks and complications related to this procedure, even if they are rare. It is only after discussing the case with the doctor that you will have all the elements to make your decision.
---
Did you like this page?
As part of improving the information we provide you, please note this page.
Click to rate!
The media is talking about us!
















Locate us
Address
Avenue Jomini 8
1004 Lausanne
Switzerland
Schedule
Monday9h-12h 14h-18h
Tuesday9h-12h 14h-18h
Wednesday9h-12h 14h-18h
Thursday9h-12h 14h-18h
Friday9h-12h 14h-18h

Parking
Disabled access
Station 10 min
Airport 50 min