Vascular laser in Lausanne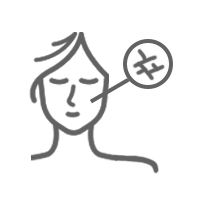 Useful information
Who is it for?

All those who wish to treat diffuse redness and couperose (rosacea)

Price

From CHF 250 to 500 / session

Duration of the procedure

20 to 30 min (number of sessions to be defined according to the case)

Type of anesthesia

None or local

Duration of results

Durable (2 to 5 years)

Duration of social eviction

None
What is vascular laser?
The vascular laser is a type of laser that allows the treatment of skin anomalies due to an alteration of the blood vessels.
The indications
Vascular laser treatment is intended for people with skin disorders due to the appearance of abnormal blood vessels. Most of the time, these are the following disorders:
Redness and couperose of the face.
Redness, rubyangioma of the trunk and small vessels of the body
Red or bluish capillaries of the legs and varicosities.
The procedure
Each session lasts an average of 20 to 30 minutes. The number of sessions is defined during the first appointment. Each laser indication is governed by a codified treatment procedure that will have been explained during the initial consultation. Most of these disorders can be treated without anesthesia.
To destroy a blood vessel with a laser, either the vascular walls are burst or the hemoglobin in the red blood cells circulating inside the vessel is coagulated.
Thus, the laser shots are performed by the physician who moves the laser handpiece on the surface of the skin. He uses aiming systems that allow him to precisely deliver the desired doses of light and energy to the target areas.
Post-treatment period
One method causes purpura, a small purple spot on the treated vessel that disappears after 10 days. The other results in redness and swelling for a few hours to a few days. The method will be chosen by the doctor according to your case.
You can resume your activities as soon as the laser treatment is completed.
It is important not to expose yourself to the sun or to heat sources that would redilate the vessels.
Results
The problem is resolved on the treated veins after the number of sessions indicated by the doctor. However, we will not be able to prevent the appearance of new vessels if you have a vascular problem that favors the distortion of the vessels. At your appointment, the doctor will explain the results you can expect depending on your case.
Risks and side effects
During your appointment, the doctor will explain all the possible risks and complications related to this procedure.
---
Did you like this page?
As part of improving the information we provide you, please note this page.
Click to rate!
The media is talking about us!
















Locate us
Address
Avenue Jomini 8
1004 Lausanne
Switzerland
Schedule
Monday9h-12h 14h-18h
Tuesday9h-12h 14h-18h
Wednesday9h-12h 14h-18h
Thursday9h-12h 14h-18h
Friday9h-12h 14h-18h

Parking
Disabled access
Station 10 min
Airport 50 min